Master of Science in Information Technology Leadership
Admission Requirements
Ready to advance your career?
Connect with an advisor today.
"*" indicates required fields
Two weeks until application deadline!
---
ADMISSION REQUIREMENTS FOR MS IN INFORMATION TECHNOLOGY LEADERSHIP
The online Master of Science in Information Technology Leadership degree program is intended for IT professionals who aspire to advance their careers by becoming accomplished leaders of organizations, teams and projects. Ideal candidates will possess a strong foundation in information technology or related skills, complemented by previous leadership experience.
The following elements are the standard admissions expectations for applicants:
At least two years of experience in the IT field.
Bachelor's degree (BS or BA) from an accredited institution. Official transcripts are required.
Bachelor's GPA of 2.75 or higher.
Candidates with GPA under 2.75 can apply but will be asked to provide relevant explanations in essay format.
Submission of an essay describing your fit with the MS-ITL program.

Please write a personal statement describing yourself and your career goals within the information technology field. Your narrative should specifically address the following:

Your greatest strengths as an information technology professional
How you would like to grow professionally
Why you are interested in this degree program

Please connect your responses to the program's goals and learning objectives
Your essay should not simply repeat facts already included in the application; it should give the Admissions Committee a better sense of who you are as a person and an IT professional, as well as what you hope to achieve as a graduate of this program. Your essay will be evaluated both on its content and how well you communicate it, and it should be 500-700 words in length.

Resume or Curriculum Vitae.
One letter of support from a current or a previous supervisor or manager.

If you are unable to obtain a letter of recommendation from a supervisor or manager, please supply two letters of recommendation from professional references.
If you are interested in applying but do not fulfill all of the admissions criteria, please contact an enrollment advisor at (888) 832-0239 or fill in the form at the top of this page and an enrollment advisor will contact you. Our application review process always includes a comprehensive examination of your experience and background. USD recognizes that a low undergraduate GPA or an absence of professional experience does not always reflect your potential for success in our program.
For further details and guidance on preparing your application, visit our "Starting Your Application" page.
Should you have questions regarding any part of the application process, please do not hesitate to contact an Enrollment Advisor for assistance.
---
General Admission Information and Requirements
Students are accepted year-round for admission into one of three semesters (spring, summer, and fall) in the Master of Science in Information Technology Leadership program. Each semester, the program offers two courses, enabling students to focus intensively on one class at a time – with each course lasting seven weeks. Students can complete this degree program in five semesters (20 months).
USD accepts admission application packets on a rolling basis. The Review Committee typically provides a decision within a few weeks after submission.
View the academic calendar below:
---
At a Glance
Earn your master's degree in just 20 months. MSITL is a 30-unit project-based program designed
to be completed in five semesters. Students can focus on one 7-week course at a time.
---
are you an international applicant?
International applicants must meet additional requirements for admission, including:
International applicants must submit an official score report from one of the following acceptable English proficiency exams:
A course-by-course transcript evaluation and report by one of the following approved agencies. No other transcript evaluation will be accepted for degrees earned outside the U.S.
If you are currently in the U.S. on an F-1 or M-1 student visa, you are not eligible to pursue the online section of our program, per U.S. immigration regulations.
International
Our borders are open to international students of all regions.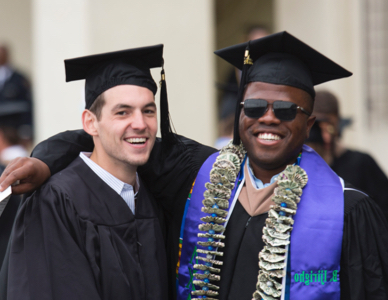 Start Your Future Now
---
STUDENT SUPPORT
The University of San Diego (USD) offers support services from your initial inquiry through graduation and job placement. USD is a nationally ranked institution with a top priority of promoting academic excellence. We aim to help you develop into the leader you envision yourself to be!
Enrollment Advising
Upon your initial inquiry about our graduate degree programs, we will assign you a personal Enrollment Advisor. Your Enrollment Advisor is available to address your questions, assist in evaluating your eligibility for admission and guide you through the application process. From expressing interest in a program to completing the application process, your advisor will be with you every step of the way. Our team of advisors can even help order your undergraduate transcripts, guide you through writing your admission essay and ensure you meet all deadlines.
Program Advising
As you enroll in the Master of Science in Information Technology Leadership program and formally register for classes, a Program Advisor will serve as your primary point of contact for support. Upon enrollment, your Program Advisor will schedule a 15-minute introductory call to review technology/equipment requirements, connect you with financial aid resources (GI Bill/VA funding, payment plans, etc.) and assist you in signing up for the online orientation. Throughout your program, you'll collaborate with your Program Advisor to add/drop classes, coordinate credit transfers and address any technical challenges. For most university-related questions, feel free to consult your Program Advisor, who will direct you to the appropriate resource if they don't have the answer.
Academic Advising
An Academic Advisor is assigned to each of our graduate degree programs and is responsible for evaluating applications, admitting new students, monitoring your academic progress and offering guidance as needed. Academic Advisors also serve as instructors within their respective programs.
Additional Support
Instructor Support – Instructors will facilitate your studies throughout the course, responding to your questions and coursework via the online course platform.
Library Support – Access to Copley Library's online digital databases and other resources, including reference services by phone or email, will be at your disposal.
Technical Support – In case of any difficulties with the online learning environment, you can rely on USD's help desk technical support for responsive and helpful assistance.
Graduate Placement
Career Services at the University of San Diego serves as a centralized resource for USD students, alumni and employers. Career Services provides access to online career tools and other resources designed to assist you in your job search. As a graduate of the Master of Science in Information Technology Leadership program, you can leverage these resources to help you transition smoothly into your desired career path or further advance in your current role.
---
Frequently Asked Questions
For further admissions and financial aid information, please refer to the University of San Diego's main FAQ page.