Master of Science in Humanitarian Action 
Ready to Learn More?
Connect with an advisor today.
"*" indicates required fields
Get a promo code for 100% off your application fee!
At a Glance
Position yourself for leadership and success in the humanitarian field with a master's degree you can earn online in just 20 months from the Kroc School of Peace Studies.
TAKE 1 COURSE AT A TIME
Students are admitted throughout the year for admission into one of three terms (spring, summer and fall). Two courses are offered each term, with students focusing on one course at a time — a total of seven weeks for each course.
100 % online
Respond to the World's Greatest Challenges with a Master's Degree in Humanitarian Action
Now more than ever, the world needs dedicated leaders and trained, experienced professionals who are equipped to tackle all types of humanitarian crises. Whether you are a recent graduate or a working professional, the Kroc School of Peace Studies 100% online Master of Science in Humanitarian Action (MSHA) program will cultivate the skills and knowledge needed to help prevent, respond to and recover from complex global humanitarian emergencies. This multidisciplinary approach will prepare you to become the type of valued resource, critical thinker and humanitarian leader who top companies and organizations are looking for to help solve some of the world's biggest challenges.
---
A Closer Look – Humanitarian Action at USD
---
Who Is the MSHA Degree For?
Are you motivated by change and making a difference? The M.S. in Humanitarian Action degree program is ideally suited for candidates who recognize the need to think holistically about humanitarian crises in a broader context.
You may have an undergraduate degree, background and/or relevant experience in areas including but not limited to:
Humanitarian Aid
International Affairs
Political Science
Social Justice
Social Impact
Economic Development
Government Relations
Sustainability
Volunteerism
The Military
Grant Development/Writing
Community Outreach
Program Coordination
Financial Accountability
Peace Corps
AmeriCorps
Specific positions that are well suited for this program include:
International humanitarian aid and development workers
U.S.-focused natural disaster response workers
Refugee service providers
Staff from philanthropic foundations
Government personnel (U.S. Navy, Marines, FEMA, U.S. State Department, Centers for Disease Control & Prevention, etc.)
Private sector employees working with (or for) firms that sell or source to markets in insecure and/or disaster-affected areas
Social entrepreneurs
Whether you are an experienced professional looking to take your career to the next level or a recent graduate, we invite you to apply to this program. We also seek applicants who may not have background or experience in any of these areas but are action-minded individuals with volunteer experience interested in pursuing a career in the humanitarianism or disaster relief sector.
---
Admissions (Earn Your Degree in 20 Months)
Getting Started with Your Humanitarian Action Master's Degree Application
Applications are accepted on a rolling basis. For details on specific requirements needed for admission, please connect with an Enrollment Advisor.
Applicants must hold a bachelor's degree from an accredited college or university with a cumulative GPA of 3.0 or higher on a 4.0 scale. An official transcript is required.
Candidates with a GPA under 3.0 will be asked to provide an essay in support of their candidacy. In addition, it is recommended that candidates with a GPA under 3.0 complete a standardized test such as the GRE or GMAT.
International students hailing from non-English speaking countries will require a TOEFL score of 83 or higher.
Interested students must complete an online application, a personal statement comprised of four short essays, and include a professional resume. One letter of recommendation is required from a professor or professional supervisor. If the student is unable to obtain a letter from a professor or professional supervisor, two letters of reference are required.
The personal statement prompts include the following questions:
What is a specific social issue or problem that you believe plays an important role in creating, exacerbating or prolonging humanitarian crises? Justify your answer.
In your opinion, what are the biggest obstacles to solving that problem? (In other words, why hasn't it already been solved?)
Describe something that has inspired you to enter the humanitarian field.
Why do you want to pursue a Master of Science in Humanitarian Action at the University of San Diego's Kroc School in particular? Be sure to address how a Master of Science in Humanitarian Action fits into your professional plan or career trajectory.
---
Humanitarian Action Careers
Graduates of the MSHA program are likely to go on to work in a variety of positions related to humanitarian action. These may include:
Program Director
Director of Operations
Executive Director
Chief of Party
Chief Innovation Officer
Social Worker
Health Care Professional
Grant Writer
Grants Specialist
Communications Officer
Humanitarian Affairs Officer
Crisis Response Lead
Counselor
Advocacy and Communications Consultant
Philanthropy Officer
Fundraising Coordinator
Some of the top companies and organizations involved in humanitarian action are hiring. Take a look at some of the employers you will see as you research popular job sites:
Action Against Hunger
Bureau of Humanitarian Affairs (USAID)
Catholic Relief Services
CARE International
Chesapeake Climate Action Network
Doctors Without Borders
Federal Emergency Management Agency (US Government)
Global Communities
Habitat for Humanity International
Helvetas
International Federation of the Red Cross and Red Crescent (IFRC) (including the International Committee of the Red Cross and Red Crescent (ICRC))
International Medical Corps
International Rescue Committee
Mercy Corps
Save the Children
UNICEF
UN Women
VolunteerMatch
UN World Food Programme
World Jewish Relief
The World Health Organization
World Vision International
World Vision USA
In addition to humanitarian and disaster relief organizations, top colleges and universities are looking for skilled program coordinators, instructors and project managers with the kind of knowledge and experience that the MSHA degree program can provide.
---
academic calendar
Degree candidates are admitted throughout the year to begin their degree during one of three terms (Spring, Summer, Fall). Students take two courses during each 14-week semester, focusing on one 7-week course at a time. This degree program can be completed in 5 semesters (20 months).
---
Practical, Relevant Curriculum
Our innovative, multidisciplinary courses prepare graduates to tackle the biggest global humanitarian challenges.
The curriculum of the Master of Science in Humanitarian Action program will teach student how to:
Assess humanitarian needs
Manage the complex landscape of local, national and international challenges
Design and evaluate innovative solutions
The 30-credit program will culminate in a capstone simulation exercise in which students tackle a realistic complex humanitarian emergency. They will demonstrate the skills and thematic knowledge necessary to design, implement and evaluate creative solutions in a real-time scenario. Students will take a total of 10 three-unit courses including the capstone, all of which can be completed in 20 months.
---
Program Goals and Learner Outcomes
Upon completion of the program, MSHA graduates will be equipped to:
Integrate and apply humanitarian skills and knowledge.
Graduates will gain the complex skills and thematic knowledge required to effectively navigate and address complex humanitarian crises.
Apply a diverse perspective to humanitarian affairs.
Graduates will be able to apply logistical, legal, political, economic, cultural and environmental lenses to humanitarian affairs. They will appreciate the values and strengths of those from different cultures, ethnicities and religious and political backgrounds and perspectives.
Exercise critical inquiry and applied learning.
Graduates will be able to analyze and research the historical, structural and cultural parameters in which humanitarian crises develop. They will also be able to apply interdisciplinary skills to navigate, manage and address a broad spectrum of national and international humanitarian crises.
Communicate effectively and efficiently during all aspects of a humanitarian crisis.
Graduates will understand the importance of effective communication during challenging humanitarian contexts. They will be able to clearly and concisely communicate their knowledge and expertise while demonstrating intercultural and trauma awareness and conflict sensitivity.
Implement ethical reasoning to assess humanitarian problems, possible solutions and impacts on various stakeholders.
Humanitarian workers have an ethical responsibility to ensure that their work is in the best interest of those it serves.
The faculty involved in the MSHA program include current USD instructors and external experts. The academic director of the MSHA program, Associate Professor Topher McDougal, holds a Ph.D. in International Economic Development from the Massachusetts Institute of Technology. At USD, he teaches courses on economic development, environmental peace and justice, humanitarianism, black markets, research methodologies and evaluation.
The faculty in this program have extensive knowledge and hands-on experience in everything from peace and conflict resolution to international law and diplomacy. While some are full-time professors within USD's Joan B. Kroc School of Peace Studies, others are executive-level directors, experienced consultants and regional coordinators who work directly for humanitarian-related organizations.
---
accreditatioN
Accreditation is an important quality indicator for college and university degree programs, generally regarded as a stamp of approval that ensures you will be able to apply for financial aid and transfer your credits if you decide to switch schools. Most state universities and private nonprofit universities will have a regional accreditation. The University of San Diego has earned both regional and national accreditations.
Accreditations include:
The WASC Senior College and University Commission – WASC is a regional accrediting agency that is recognized by the U.S. Department of Education as certifying institutional eligibility for federal funding in a number of programs, including student access to federal financial aid. Learn more about the importance of selecting a regionally accredited program.
---
Tuition & Financial aid
Program tuition is competitive with other top institutions. Federal financial aid can help you fund your degree. Scholarships and grants may also be available.
One of the University of San Diego's highest priorities is to ensure that sufficient tuition and financial aid support is available to all eligible students. The first step is to complete the free Application for Federal Student Aid (FAFSA).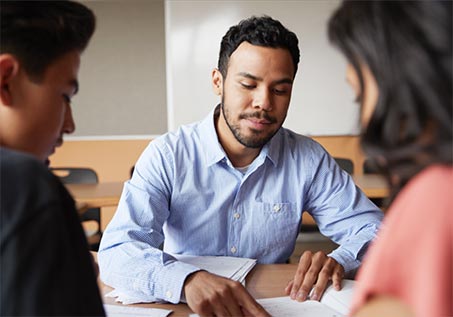 Affordable Tuition
Find helpful information on tuition and financial aid.
Financial Aid
Discover possible additional sources of funding to help pay for your degree.
---
How to apply
Learn more about the application process, including detailed instructions on how to apply.