What is Educational Technology? [Definition, Examples & Impact]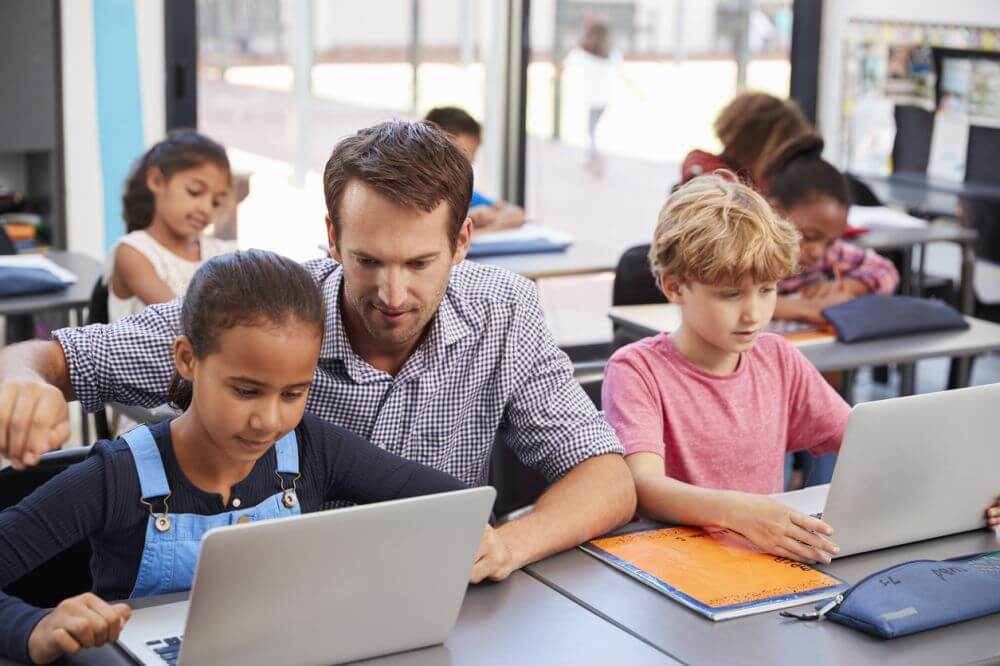 From the ancient abacus to handheld calculators, from slide projectors and classroom film strips to virtual reality and next-generation e-learning, educational technology continues to evolve in exciting new ways — inspiring teachers and students alike.
Technology is continually changing the way we work and play, create and communicate. So it's only natural that advancements in digital technology are also creating game-changing opportunities in the world of education.
For teachers, technology is opening up new possibilities to enrich and stimulate young minds. Today, there is growing excitement around the potential for assistive technology, virtual and augmented reality, high-tech collaboration tools, gamification, podcasting, blogging, 3D printing, artificial intelligence, personalized learning and much more.
Here, we'll explore some of the most promising examples of educational technology and some specific edtech tools and trends. But first let's take a closer look at what we mean when we talk about "educational technology," because the discussion can refer to both:
The theory and practice of educational approaches to learning, as well as
The technological tools that assist in the development and communication of knowledge
What is Educational Technology? [Tools & Media]
One important definition of educational technology focuses on "the technological tools and media that assist in the communication of knowledge, and its development and exchange."
Take augmented reality and virtual reality, for example. Writing about the "Top 6 Digital Transformation Trends In Education" in Forbes.com, technology innovation specialist Daniel Newman discusses using AR and VR to "enhance teacher instruction while simultaneously creating immersive lessons that are fun and engaging for the student." He invites us to imagine using virtual reality to transport students to ancient Greece.
Gamification combines playing and learning by utilizing gaming as an instructional tool, according to Newman, who explains that incorporating gaming technology into the classroom "can make learning difficult subject matter more exciting and interactive."
Regarding artificial intelligence, Newman notes that a university in Australia used IBM's Watson to create a virtual student advisory service that was available 24/7/365. Apparently Watson's virtual advisors fielded more than 30,000 questions in the first trimester, freeing up human advisors to handle more complex issues.
ProwdigyGame.com, whose free curriculum-aligned math game for Grades 1-8 is used by millions of students, teachers and parents, offers specific tips for leveraging educational technology tools in a report titled "25 Easy Ways to Use Technology in the Classroom." Their ideas include:
Running a Virtual Field Trip: Explore famous locations such as the Empire State Building or the Great Barrier Reef; or preview actual field trips by using technology to "visit" the locations beforehand.
Participating in a Webquest: These educational adventures encourage students to find and process information by adding an interesting spin to the research process. For example, they could be placed in the role of detective to solve a specific "case," collecting clues about a curriculum topic by investigating specified sources and web pages.
Podcasting: Playing relevant podcasts — or assisting students in creating their own — can be a great way to supplement lessons, engage auditory learners and even empower students to develop new creative skills.
Educational technology strategist David Andrade reports in EdTechMagazine.com ("What Is on the Horizon for Education Technology?") that current tools and trends include online learning and makerspaces, "with robotics and virtual reality expected to be widely adopted in the near future." Peeking a little further into the future, Andrade says studies indicate that "artificial intelligence and wearable technology will be considered mainstream within four to five years."
In practice, future innovation will come from the hearts and minds of the teachers who develop the knowledge and skills needed to discover the most engaging, effective ways to use educational technology strategies in classrooms, and virtual classrooms, far and wide.
What is Educational Technology? [Theory & Practice]
Another essential definition of educational technology focuses on the theory and practice of utilizing new technology to develop and implement innovative educational approaches to learning and student achievement.
Behind all the high-tech tools, the digital bells and whistles, are the teachers who possess the skill — and the inspiration — to use these new technologies to expand the educational universe of their students.
According to a report by the International Society for Technology in Education ("11 Hot EdTech Trends to Watch"), "the most compelling topics among educators who embrace technology for learning and teaching are not about the tech at all, but about the students."
Benefits for students include expanded opportunities for personalized learning, more collaborative classrooms and new strategies such as so-called "flipped learning," in which students are introduced to the subject material outside the classroom (often online), with classroom time then being used to deepen understanding through discussion and problem-solving activities with peers.
For teachers who aspire to make an impact in this discipline, earning a master's in educational technology is obviously about learning new tools, strategies and practices, but it's also about understanding the supporting structures that must be in place to ensure the most successful outcomes. These include:
Policy and legal issues
Ethical issues (student privacy, etc.)
Funding, grants and budgets
Real-world applications (the world of work, partnership opportunities, etc.)
Networking basics, hardware, learning management software
Equity (community/school access and assets, student access)
Ability to complete a school or district needs assessment/site tech survey analysis
Therefore, for educators who are inspired by the immense potential of educational technology, the value of a master's degree cannot be overstated.
Careers in Educational Technology [Value of a Master's Degree]
"We need technology in every classroom and in every student and teacher's hand," says education technology pioneer David Warlick, "because it is the pen and paper of our time, and it is the lens through which we experience much of our world."
In recent years, rising interest in educational technology has led to the emergence of new advanced degree programs that are designed to prepare educators to shift into an innovator's mindset and become transformative technology leaders in their classroom, school or district.
The best programs are structured to impart a comprehensive understanding of the tools used in educational technology, the theories and practices, and critically important related issues (budgeting, legal/ethical considerations, real-world partnership opportunities, educational equity, etc.) that are essential for such technology-enhanced programs to deliver on their potential to inspire student learning, achievement and creativity.
For example, the University of San Diego, well-known for its innovative, online Master of Education program, is launching a new specialization. The program is designed to prepare teachers to become effective K-12 technology leaders and coaches, virtual educators and instructional innovators who embrace technology-influenced teaching practices to empower student learning.
The program's fully online format — in which students learn from expert instructors who possess deep experience in the field, while also interacting with fellow teachers from across the country — enables busy education professionals to complete their master's degree in 20 months while working full time.