As big data and the science of informatics continue to drive performance improvement efforts throughout the health care system, the role of health care data analyst has moved from behind the scenes to center stage. Bottom line: Health data analysts are focused on data-driven quality improvement in a wide range of areas, with a strong emphasis on cost control and the quality of patient care.
Health data analysts are in high demand due to their skills in gathering, interpreting and organizing data into actionable insights that hospitals, health organizations and other industry employers can use to improve operations.
Read on to learn more about:
What health care data analysts do
Why they are so essential in today's health care economy
How to position yourself for success in the health care analytics workforce
The Growing Importance of Data Analytics in Health Care
The staggering volume of data now available to researchers, insurers, care providers and others — generated in part by the transition to electronic medical records and the rapid rise of new health care technologies — represents a massive opportunity for reshaping both the operational and patient care sides of the $3 trillion U.S. health care industry.
Additional sources of health data that can help the industry better serve individual patients and entire patient populations alike include:
Machine-generated/sensor data, such as from monitoring vital signs
Insurance claims, billing and cost data
Prescription data
According to IBM Watson, the amount of medical data is expected to double every 73 days by 2020, with each person generating enough health data in their lifetime to fill 300 million books.
"The quest to retrieve, analyze, and leverage that data has become the new gold rush," according to Fortune.com.
In addition to reducing costs and improving care, health data analytics also has the potential to save lives, and health care data analysts are on the front lines of this ongoing transformation.
Health Data Analyst [Job Responsibilities and Needed Skills]
"The best health data analysts are diligent problem solvers who use data in creative ways to reach business goals," according to a health care data analyst job description template posted at employment website BetterTeam.com. They "understand the business needs of a hospital and how to use data to achieve those needs. Their job responsibilities include organizing and managing large and varied data sets, analyzing healthcare data to optimize business operations and communicating their findings through the use of data visualization and detailed reports."
HEALTH DATA ANALYST JOB DESCRIPTION
Health Data Analyst Responsibilities:
Compiling and organizing health care data
Analyzing data to assist in delivering optimal health care management and decision making
Using health care data to achieve administrative needs and goals
Understanding data storage and data sharing methods
Investigating data to find patterns and trends
Understanding health care business operations
Utilizing different data sources for analyses
Converting data into usable information that is easy to understand
Developing reports and presentations
Communicating analytic insights to management
Health Data Analyst Requirements:
Master's degree advantageous
Proficiency with database programming languages such as SQL
Proficiency with Python for data manipulation
Experience with data visualization tools
Knowledge of data management applications
Proficiency managing electronic medical records
Analytical mindset with good problem-solving skills
Excellent written and verbal communication skills
Good interpersonal skills
Health data analysts must be adept not only at gathering the data needed to solve problems, interpreting that data and then synthesizing it into recommended actions, they must also possess the communication skills needed to convey their findings to the decision makers who will ultimately act on those recommendations.
According to a report from IT Career Central, the job of a health data analyst requires the following mix of hard skills and soft skills:
Hard skills  
Healthcare expertise
Data and technical skills
Knowledge of math and statistics
Soft skills
Problem solving
Storytelling
Collaboration
Curiosity
Communication
Creativity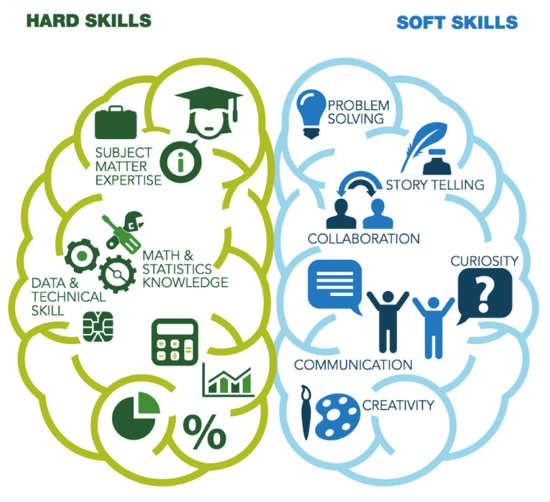 In terms of specific technical skills, according to HealthCatalyst.com, health data analysts need a strong grounding in the following six disciplines:
Structured Query Language — The ability to speak to and manipulate databases through code.
Export, Transform and Load (ETL) — The health data analyst needs to be able to perform ETL processes. Simply put, this means taking data from one system and putting it into another.
Data Modeling — The ability to write code that models real-world processes and workflows; for example, code that pulls together all of the information needed for a particular workflow, such as a hospital admission.
Data Analysis — The ability to make sense of the data once it is compiled, and extract actionable insights. An analyst is often tasked with mining available data to answer questions that begin with the word "why."
Business Intelligence (BI) Reporting — Health data analysts must be able to present data in a way that's intuitive to nontechnical users; this often involves a visual representation. In some ways, this aspect of the job is like being an interpreter who translates information into more easily understandable terms.
Telling the Story — Analysts must be able to effectively communicate stories embedded in the data. Where BI reporting gives you a micro view, it is also essential to translate the data-driven insights into a meaningful big-picture view.
In "3 Stages of Transforming Raw Data into Meaningful Analytics," HealthCatalyst.com provides further insight into the work of a health data analyst. The three stages include:
Data Capture — An analyst's job at this stage is impacted by the way people, processes and devices produce and capture data. Are they capturing the right data in the right format while also providing for ease of extraction?
Data Provisioning — Analysts require data from multiple sources and systems to produce meaningful insights. Doing so manually is extremely time-consuming, so health data analysts benefit from access to an enterprise data warehouse, a testing environment and data discovery tools.
Data Analysis — Actual analysis does not begin until the appropriate data has been captured and pulled. The analysis process starts with a data quality evaluation and data discovery steps, followed by interpretation and presentation. Presentation is critical: The analyst needs to tell a story with the data in a simple, consumable way that caters to the audience.
By seeing themselves first and foremost as problem solvers, health data analysts are best able to partner with clinical, financial and operational teams with the overall goals of improving quality and reducing costs.
Why Health Data Analysts Are More Important Than Ever
Health data analysts are no longer just "numbers crunchers." Instead, they play an integral role on their organizations' performance improvement teams.
Their work is considered immensely valuable and their skills are needed in a wide variety of workplace settings, including hospitals, large medical practices and health care organizations, insurance companies, tech vendors, state and federal departments and agencies, etc.
This is in part because leading health organizations not only recognize the opportunities presented by big data but because they also recognize that failing to act on those opportunities is to risk falling behind in the highly competitive health care landscape.
Additionally, the emergence of such incredibly powerful technologies as artificial intelligence, machine learning and predictive analytics holds the potential to make the role of health care data analyst even more important in terms of unlocking hidden secrets and solutions to improving health care. 
Analytics is "a major underpinning of the next wave in healthcare transformation," according to an article at hcinnovationgroup.com ("Why analytics is at the foundation of healthcare transformation").
Going forward, the work of health care data analysts promises to affect every aspect of the health care experience — providing valuable new insights for health care providers and patients alike, as well as insurers, pharmaceutical firms, medical device makers and more.                                      
Simply put, the vast quantity of valuable medical data available today would be next to worthless without health care data analysts who possess the skills to interpret and make sense of it — trained professionals who can identify the right data to look at, make connections between multiple sources of data and use the data to tell a story.
How to Become a Health Data Analyst
Experience in technology, especially in data analytics, definitely gives one a competitive edge in the health care data analyst job marketplace. Experience within the healthcare industry is also highly valued.
This is why many professionals who work in health information management (HIM) are upgrading their skillsets to position themselves for career opportunities in health data analytics and health care informatics.
In an article titled "Data Scientist Shortage Creates Competitive Job Market for Analytics, Informatics," Journal of AHIMA Associate Editor Mary Butler reports that HIM professionals who are "adding data analysis skills to their toolboxes are doing themselves a favor in terms of job security." She describes a graduate student earning an advanced degree in statistics weighing four competing job offers before choosing one with a six-figure salary at an analytics firm focused on health care companies and hospitals.
[RELATED] How Health Informatics is Shaping Future of Health Information Management >>
With the stakes so high and the need for talented health data analysts at a premium, many employers and job postings are specifying that they require or strongly prefer candidates with a master's degree.
Fortunately, the growing need has also inspired more colleges and universities to establish graduate degree programs in health analytics and health informatics to help meet the demand for qualified applicants.
For example, the University of San Diego offers a Master of Science in Health Care Informatics that features the option of specializing in a Health Care Analytics (Data Science) Track. USD offers highly regarded health informatics advanced degree programs both on campus and online to meet the needs of working professionals.
The Health Care Analytics track teaches students to employ the skills of a data scientist, within the context of the health care discipline. Students will focus on understanding health care delivery from the bedside to the board room, and utilize advanced analytics tools combined with programming skills to design unique solutions to solving health care problems.