Master of Science in Engineering Management and Leadership
Admission Requirements
Request Information
Ready to Learn More About the Master of Science in Engineering Management and Leadership?
"*" indicates required fields
---
ADMISSION REQUIREMENTS FOR THE M.S. IN ENGINEERING MANAGEMENT AND LEADERSHIP
The online Master of Science in Engineering Management and Leadership degree program is designed for technical professionals who are looking to further their careers by becoming effective leaders of organizations, teams and projects. Ideal candidates will have a command of technical or engineering skills along with some prior management and leadership experience.
The following elements are the standard admissions expectations for applicants:
Bachelor's degree in a STEAM or business professional field from an accredited institution. Official transcripts are required.
Bachelor's GPA of 2.75 or higher. Candidates with GPA under 2.75 can apply but:

Will be asked to provide relevant explanations in the accompanying statement of purpose.
Are recommended to complete a standardized test such as GRE or GMAT.

Statement of purpose (minimum 500 words)
Resume or Curriculum Vitae
Recommendation letters, either:

One from a supervisor/manager or other relevant external reference for applicants with more than 5 years industry experience, or
Two letters of recommendation from external references for applicants with 5 years or less of professional experience
If you are interested in applying, but do not meet all of the admissions requirements, please contact an enrollment advisor at (888) 832-0239 or use the chat feature on this page. Our application review process always includes a holistic look at your experience and background, and we understand that a low undergraduate GPA or lack of professional experience is not necessarily indicative of your potential success in our program.
You can find additional information and guidance on preparing your application by visiting our "Starting Your Application" page.
If you have questions regarding any aspect of the application process, please contact an Enrollment Advisor for assistance.
---
---
GENERAL ADMISSION INFORMATION AND REQUIREMENTS
Students are admitted throughout the year for admission into one of three semesters (spring, summer, and fall). Each semester two courses are offered, with students focusing intensively on one course at a time – a total of seven weeks for each course. This degree program can be completed in five semesters (20 months).
Admission application packets are accepted on a rolling basis. A decision will be recommended by the Review Committee within a few weeks from submission.
View the academic calendar below:
---
At a Glance
Earn your master's degree in just 20 months. USD-EML is a 30-unit project-based program designed to be completed in five semesters. Students can focus on one 7-week course at a time.
---
Are you an international applicant?
International applicants must meet additional requirements for admission, including:
Submitting an official score report from of the following acceptable English Language Proficiency exams:
A course-by-course transcript evaluation and report by one of the following approved agencies. No other transcript evaluation will be accepted for degrees earned outside the U.S.
If you are currently in the U.S. on an F-1 or M-1 student visa, you are not eligible to pursue the online section of our program, per U.S. immigration regulations.
International
Our borders are open to international students of all regions.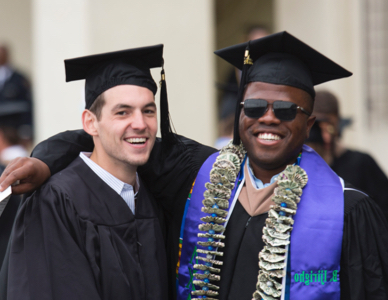 Start Your Future Now
---
STUDENT SUPPORT
USD provides support services from your initial inquiry through graduation and placement. The University of San Diego (USD) is a nationally ranked institution focused on an unwavering expectation: academic excellence. We want to help you become the changemaker you want to be!
Enrollment Advising
When you first inquire about one of our graduate degree programs, you will be assigned a personal Enrollment Advisor. Your Enrollment Advisor is available to answer your questions, help you assess your eligibility for admission and guide you through the application process. Your advisor will help you every step of the way from the moment you indicate your interest in a program through the entire application process. Our team of advisors can even help order your undergraduate transcripts, guide you through the process of writing your admission essay and ensure you are staying on top of deadlines.
Program Advising
A Program Advisor will be your primary point of contact for support once you are admitted and have formally registered for classes. When you first enroll, your Program Advisor will schedule a 15-minute introductory call to review technology/equipment requirements, connect you with resources for financial aid (GI Bill/VA funding, payment plans etc.) and help you sign up for the online orientation. Over the course of your program, you'll work with your Program Advisor to add/drop classes, coordinate credit transfers and address any technical challenges you might be experiencing. In fact, you can direct most university-related questions to your Program Advisor; if they do not have the answer, they will point you to the available resource that does.
Academic Advising
Each of our graduate degree programs has an Academic Advisor, who is responsible for evaluating applications and admitting new students, monitoring your academic progress and providing guidance as needed. Academic Advisors also serve as instructors for their respective programs.
Additional Support
Instructor Support – Instructors facilitate your studies throughout the course and will respond to your questions and coursework through the online course platform.
Library Support – You will have access to Copley Library's online digital databases and other library resources, including the library's reference services, either by phone or email.
Technical Support – If you have any troubles with the online learning environment, you'll find USD's help desk technical support to be responsive and effective.
Graduate Placement
Career Services at the University of San Diego acts as a centralized resource for USD students, alumni and employers. Career Services can provide you with online career tools and other resources to help you with your job search.
---
Frequently Asked Questions
For other general questions about admissions and financial aid, see the University of San Diego's main FAQ page.