USD graduate program gets high marks from U.S. News & World Report Five Years in a Row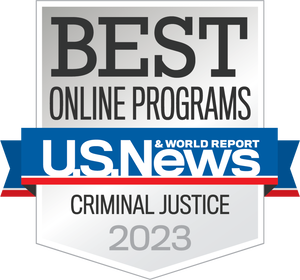 University of San Diego's online Master of Science in Law Enforcement and Public Safety Leadership (LEPSL) was ranked 22nd in the country in the latest U.S. News and World Report rankings, the fifth straight year it has been recognized as one of the nation's best online criminal justice graduate degrees.
The program launched in 2015, and has quickly become one of the top-ranked and in-demand online criminal justice graduate programs in the country.
Current program rankings include:
U.S. News and World Report's annual rankings are considered by many to be the gold standard in evaluating academic program quality, with its rigorous annual program review that considers student engagement, completion and retention rates, faculty credentials and training, curriculum, services available to students, and overall student excellence. In 2023, U.S. News and World Report ranked USD's M.S. in Law Enforcement & Public Safety Leadership as #22 overall in the "Best Online Master's in Criminal Justice Programs" and #13 in the subcategory of "Best Online Master's in Criminal Justice Programs for Veterans."
USD's M.S. in Law Enforcement & Public Safety Leadership — taught by a faculty of experienced law enforcement, criminal justice and military leaders — engages each student on a broad spectrum of relevant and practical topics that include organizational leadership, data analysis, critical thinking, conflict resolution, constitutional law, budgeting/staffing, communication and more. The curriculum and format is particularly appealing to those currently working in command staff positions who are looking for a practical master's degree that will help them further develop their leadership and management skills but have found the traditional criminal justice curriculum to be too theoretical or out of date.
[RELATED] What Master's in Criminal Justice Degree is Right For You? [Blog Post] >>
The highly interactive online format is ideal for working law enforcement professionals because it offers flexibility to balance each student's academic schedule around the demands of their law enforcement duties and family life. Students focus on just one class at a time and can complete the degree in 20 months. Transfer credit opportunities from the FBI National Academy, PERF's SMIP, FBI-LEEDA, and others allows students to build upon the leadership training they have completed shorten their path to graduation.
More than 1,000 professionals have enrolled in the online program at USD since it started, and demand is growing. Since 2015, yearly enrollment has doubled, and the program gets applicants from across the country, driven largely by referrals from students and alumni.
"The profession clearly sees the value of education, and master's degrees are now the industry standard for chief executive and many command staff-level positions," academic Director Erik Fritsvold, PhD said. "Education has been demonstrated to increase management and leadership skills, emotional intelligence, interpersonal communication and a host of other skills that apply on the street, when engaging the community, and within a progressive public safety organization."
About the Master's Degree in Law Enforcement Leadership
Developed in collaboration with law enforcement associations, USD's Master of Science in Law Enforcement and Public Safety Leadership online degree program goes far beyond a traditional criminal justice education by focusing on current issues facing law enforcement professionals and refining the skills needed to effectively lead a department or agency. Each year more than 200 law enforcement professionals from across the country graduate from the program. To speak to an enrollment advisor call (888) 832-0239.