Master of Science in Applied Artificial Intelligence
Careers
Request More Info
"*" indicates required fields
---
Your Career in Artificial Intelligence
High-paying career opportunities in artificial intelligence and related disciplines continue to expand across a broad spectrum of industries, with the market for AI engineers growing at a rapid pace of about 30% year over year. Though analysts expect AI to displace some jobs, forecasts call for 133 million new jobs requiring AI professionals by 2022.
The average salary for an artificial intelligence programmer is said to range from $100,000 to $150,000. Salaries are significantly higher for artificial intelligence engineers, averaging $171,715 with the top 25% earning above $200,000, according to one job search site.
Industry insights
$164769
Average salary for AI Engineer (ZipRecruiter)
$100000 – $150000
Average salary range for AI Programmer (Datamation.com)
---
Careers in Artificial Intelligence
An AI master's degree is ideal for candidates who plan to work within a business organization that requires the application of AI-based tools and techniques for developing intelligent systems, algorithms, and automated data-driven decision making. Program graduates will be well-prepared for success in technical positions in a variety of industries.
References:
*Salary estimates from employment sites such as U.S. Bureau of Labor Statistics, LinkedIn, Springboard, Glassdoor, ZipRecruiter, Indeed, etc. Estimates often update in real time based on changing data
Take the Next Step in Your Artificial Intelligence Career
---
Student Success Network
We are committed to connecting our students with a broad range of AI stakeholders, including members of our faculty and Advisory Board, to enhance their educational and professional development and help them take the next step in their careers.
---
Related Articles & Resources
As part of the University of San Diego's role as a thought leader in the artificial intelligence sphere, we regularly publish blog posts about industry trends, the employment outlook, and artificial intelligence career strategies, as well as additional information resources.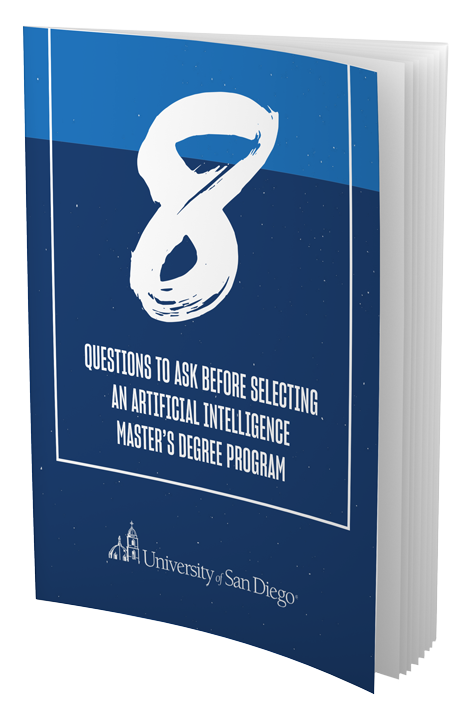 Consider Earning Your Master's in Artificial Intelligence?
Free checklists help you compare programs, select one that's ideal for you.
---
Frequently Asked Questions
Ideally, what are some key skills and knowledge to have in advance of taking M.S. in Applied Artificial Intelligence courses?
Applicants should have some knowledge and experience with Calculus and Linear Algebra. Students will also be expected to have some familiarity with reading and writing computer code.
How much programming experience is required?
Applicants should have some knowledge and experience in at least one of the following programming languages: Python, C, and Matlab.
Describe the course content for AAI 501 and 502 (1st Semester courses).
These are foundational courses and are comprised of a good deal of textbook learning, reading and assignments.
How much does the online artificial intelligence master's degree cost in tuition?
The Master of Science in Applied Artificial Intelligence online program is 30 total credits at $925 per credit, for a total tuition of $27,750. Thanks to available federal financial aid, most students find the program to be a valuable, affordable investment that quickly pays for itself.
Does USD offer career development/advising support?
The University of San Diego is committed to steering you on a path toward educational and professional success. Right from the start, you'll receive support and guidance from experienced University of San Diego advisors who are invested in helping you achieve your education goals!
---
What is the Next Step?
Now that you've done gathered some "intelligence" about the University of San Diego's Master of Science in Applied Artificial Intelligence degree program, a great next step is to start a conversation with a USD enrollment advisor who can answer all of your questions and offer more insight into this life-changing opportunity.