Master of Science in Health Care Informatics
Admission Requirements
Request Information
Ready to Learn More About the M.S. In Health Care Informatics?
---
Application Instructions
To apply to the M.S. in Health Care Informatics (MS-HCI) program, please submit an application, official transcripts, letters of reference and your resume. International applicants must also submit official TOEFL/ILETS scores and an official evaluation of foreign transcripts by one of the agencies listed at the bottom of this page.
The University of San Diego Hahn School of Nursing and Health Science admits students to the MS-HCI online program three times a year: spring, summer and fall. The MS-HCI campus program admits students for fall and spring semesters.
USD is pleased to offer a dedicated enrollment staff to assist interested students throughout the application process. There is no charge for this service. Simply use the chat feature on this page or fill out the inquiry form and an advisor will reach out to you. You may also reach us by phone at (888) 832-0239.
---
Application Materials
College/University Transcripts
Applicants are required to provide official transcripts documenting their undergraduate degree. Official transcripts are sent directly from the college or university to the University of San Diego Office of Graduate Admissions. This is usually done electronically to grads@sandiego.edu. If your undergraduate university cannot send transcripts electronically, they can be sent via postal mail to:
Office of Graduate Admissions
University of San Diego
5998 Alcala Park
San Diego, CA 92110-2492
Please note that transcripts sent via postal mail will likely cause delays in the processing of your application.
Resume
A resume describing the nature, scope and areas of responsibility of all your work experience is required. Please upload your resume with your application.
Statement of Purpose/Personal Statement
The essay, required of all candidates, gives us a better understanding of you as a person, your career goals, and your familiarity with the range of health informatics positions you might assume after graduation. It also provides a sample of your writing ability. The statement is submitted with your application.
Recommendations
Applicants are asked to submit one letter of support from a current employer. If you are unable to obtain a letter of support from your employer, you are required to submit two letters of support from professional colleagues or past supervisors.
Interview
All prospective students will be scheduled for an admissions interview once their application is complete and ready for review. This interview will be held via Zoom teleconference with the Academic Director, with the goal of exploring your career aspirations, discussing the academic expectations and requirements of the program, and answering any remaining questions you have. Interviews are scheduled on Tuesdays and Thursdays from 10:30 am to 12:30 pm Pacific Time. Once your application is complete and ready for review, please work with your enrollment advisor to schedule your interview.
---
Additional requirements for admission
Successful completion of a bachelor's degree or equivalent, from an accredited university
Basic computer and information management skills, including familiarity and experience with Microsoft Office products (Word, PowerPoint, Excel)
Basic understanding of medical terminology (Non-health care professionals will need to complete the online medical terminology course by the end of the first term. This course is not part of the degree curriculum.)
One year of work experience (preferred but not required)
---
Are you an international applicant?
International students applying to our on-campus MS-HCI program will need to be accepted earlier than the published deadlines to allow time for visa processing. Below is the upcoming deadline for 2023:
Fall 2023 Term – Application and all required documents must be submitted by May 1, 2023
The University of San Diego does not provide Optional Practical Training (OPT) or scholarships for international students. If you plan to study at the University of San Diego in F-1 or J-1 international student status, and are in need of the F-1 or J-1 Certificate of Eligibility (Form I-20 or Form DS-2019) from the University, you will be required to submit documentation showing that you have the minimum amount of expenses estimated for your program available in cash assets. International students with private funding who are interested in applying for the on-campus MS-HCI program will be required to meet additional requirements for admission, including:
A Test of English as a Foreign Language (TOEFL) exam – the new TOEFL at Home test is a great option
A course by course transcript evaluation and report by one of these approved agencies. No other transcript evaluation will be accepted for degrees earned outside the U.S.
If you are currently in the U.S. on an F-1 or M-1 student visa, you are not eligible to pursue the online section of our program, per U.S. immigration regulations.
International students who are currently in the United States on an F-1 student visa may be able to transfer the F-1 record to University of San Diego. Please contact an enrollment advisor if you think this situation applies to you.
---
At a Glance
Prepare for your career in health informatics or healthcare analytics with our HIMSS-approved program. Earn your degree at our San Diego campus or completely online.
---
Frequently Asked Questions
International
Our borders are open to international students of all regions.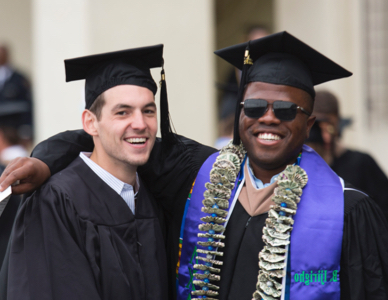 Start Your Future Now