Master of Theological Studies – Franciscan Theology
Ready to Learn More?
Connect with an advisor today.
"*" indicates required fields
At a Glance
The MTS-Franciscan Theology degree is an academic program that takes a joyful view of our faith. You focus on one class at a time.
Summer, Fall and Spring Start Dates
Have questions about the Master of Theological Studies - Franciscan Theology program?
100% Online
MASTER OF THEOLOGICAL STUDIES – FRANCISCAN THEOLOGY
---


---
The online Master of Theological Studies – Franciscan Theology (MTS-FT) is a two-year academic program offered by the Franciscan School of Theology in partnership with the University of San Diego.
The MTS-FT offers a blend of academic engagement and spiritual reflection, designed so you can complete assignments around your schedule while still connecting with fellow students and instructors in a respectful and down-to-earth environment. The program is grounded in the Catholic Franciscan tradition and provides a space in which deep Catholic theological study meets compassionate action.
Designed for working professionals and recent undergraduates alike, this unique online program is ideal for those pursuing careers in religious education, parish support, or ministry, or as preparation for further academic work. The MTS – FT degree is also suitable for anyone of any age interested in furthering their knowledge of Franciscan theology.
Living into the Franciscan spirit of generosity, community, and joy, the FST faculty have collaborated to create comprehensive, enriching, and challenging courses for this degree program.
Students of the online MTS-FT program study with renowned scholars whose teachings are drawn from significant research and lives of active service in parishes, schools, and community involvement. With a small student-teacher ratio, every student gets access to a wealth of knowledge and lived experiences.
---
WHO IS THE MTS-FT DEGREE FOR?
Educators. Community leaders. Seekers. The online Master of Theological Studies – Franciscan Theology program is designed for those seeking to immerse themselves in the teachings of the Franciscan Catholic faith, no matter their background. Our curriculum helps students construct a strong foundation for teaching and serving in their parish or in their wider communities and is built to accommodate all timelines, schedules, and experience levels.
Parish, Church, Campus/College Ministry
Educators and Teachers
Business Professionals
Counselors/Medical Professionals
Aspiring Theologians
Military Professionals
Community Leaders
Career Changers
Retired Individuals
Individuals who seek to know more about Franciscan theology
Individuals looking to integrate their faith into their respective careers
---
How to Apply
Get a closer look at the application process with detailed instructions about how to apply for your career-building online Master of Theology degree program.
---
Career Options
Graduates of the MTS-FT program go on to work or serve in a multitude of fields, many of them not strictly related to the diocese. The MTS-FT is a popular program for service providers, among others, who wish to treat the "whole person" in their profession, drawing from their knowledge of people with diverse backgrounds, beliefs, and experiences. Graduates of the Franciscan School of Theology's on-campus MTS program include:
Attorneys
Campus Minister
Chaplain
Counselor
Educator
Faith Formator
Healthcare Provider
Human Rights Advocate
Liturgist
Member of the armed forces
Musician
Non Profit Leader
Pastoral Minister
Program Director
School Administrator
Social Worker
Youth Minister
---
Admissions (Earn Your Degree in 24 Months)
Getting Started with Your Master of Theological Studies – Franciscan Theology Degree Application
Admission application packets are accepted on a rolling basis. For details on specific requirements needed for admission, please visit our Admissions page.
Our application process embraces a comprehensive perspective. If you have an interest in joining our program but don't fully meet the stated admissions criteria, feel free to connect with one of our enrollment advisors. They can provide personalized guidance to assist you in fulfilling the requirements.
Or, if you are ready to apply, we make it easy to start your application process.
---
academic calendar
Degree candidates are admitted throughout the year to begin their program during one of three semesters (Spring, Summer, and Fall). Students typically take two courses in each 14-week semester, focusing intensively on one 7-week course at a time.
---
Curriculum
The Master of Theological Studies – Franciscan Theology program curriculum provides students with a foundation of Franciscan theological knowledge in the Roman Catholic tradition. Grounded in the theological and spiritual tradition of St. Francis and St. Clare of Assisi, this program includes both academic knowledge and practical wisdom that students can apply to their professional and personal objectives.
---
Program Goals
The MTS-FT program learning outcomes are intended to prepare students to:
Interpret and Apply Theological Knowledge
Not only will the online MTS-FT degree program prepare students to enter religious education or professional ministry in the Roman Catholic Church — this program provides students a bedrock on which to build their own interpretations and proposed applications of this service-based faith tradition, whatever their life and career goals may be.
Identify Areas of Service and Need
Part of the Franciscan School of Theology's mission is to prepare women and men for lives dedicated to solidarity with those on the margins of society and the Church. The Franciscan focus on the joy of creation and service to others will help students identify places in their own communities that could be better served with compassion and understanding.
Construct a Coherent, In-Depth Theological Capstone
An MTS-FT capstone demonstrates each student's ability to develop a coherent theological argument on a topic about which they feel passionately. The capstone may contain an experiential component integrating personal, professional, and pastoral concerns and will demonstrate skill in developing a theological framework to situate the topic within the commitment of faith.
---
Hear From the MTS-FT Community
---
accreditation
The Franciscan School of Theology is accredited by the Association of Theological Schools in the United States and Canada (ATS) and the Western Association of Schools and Colleges (WASC).
The Franciscan School of Theology regularly assesses its academic programs to ensure that they continue to provide the desired depth and breadth of theological education and that they conform to the standards of the WASC and ATS accrediting agencies.

EXPERT FACULTY
The faculty for the Master of Theological Studies – Franciscan Theology are leading Franciscan scholars working together to present the wisdom of Franciscan theology and the beauty of lived experiences within the tradition.
Financial Aid
One of the FST's highest priorities is to ensure that sufficient tuition and financial aid support is available to all eligible MTS program students. We recommend that applicants apply for financial aid when they apply for admission. Please notify the Admissions department as soon as possible if you will be applying for financial aid.
Financial aid is available through the Federal Direct Loan Program, open to U.S. citizens and permanent residents. The first step in applying for aid is to complete the Free Application for Federal Student Aid (FAFSA). The Federal School Code for FST is G11792.
Recipients of financial aid will be notified of their award after their acceptance to FST.
Please note FST's discounts are only available for On-campus programs.
---
Transfer Credits
The online Master of Theological Studies – Franciscan Theology degree allows students to transfer up to six units of relevant graduate-level coursework taken at an accredited institution prior to enrollment in the online MTS-FT program. Please note that academic director review and approval are required.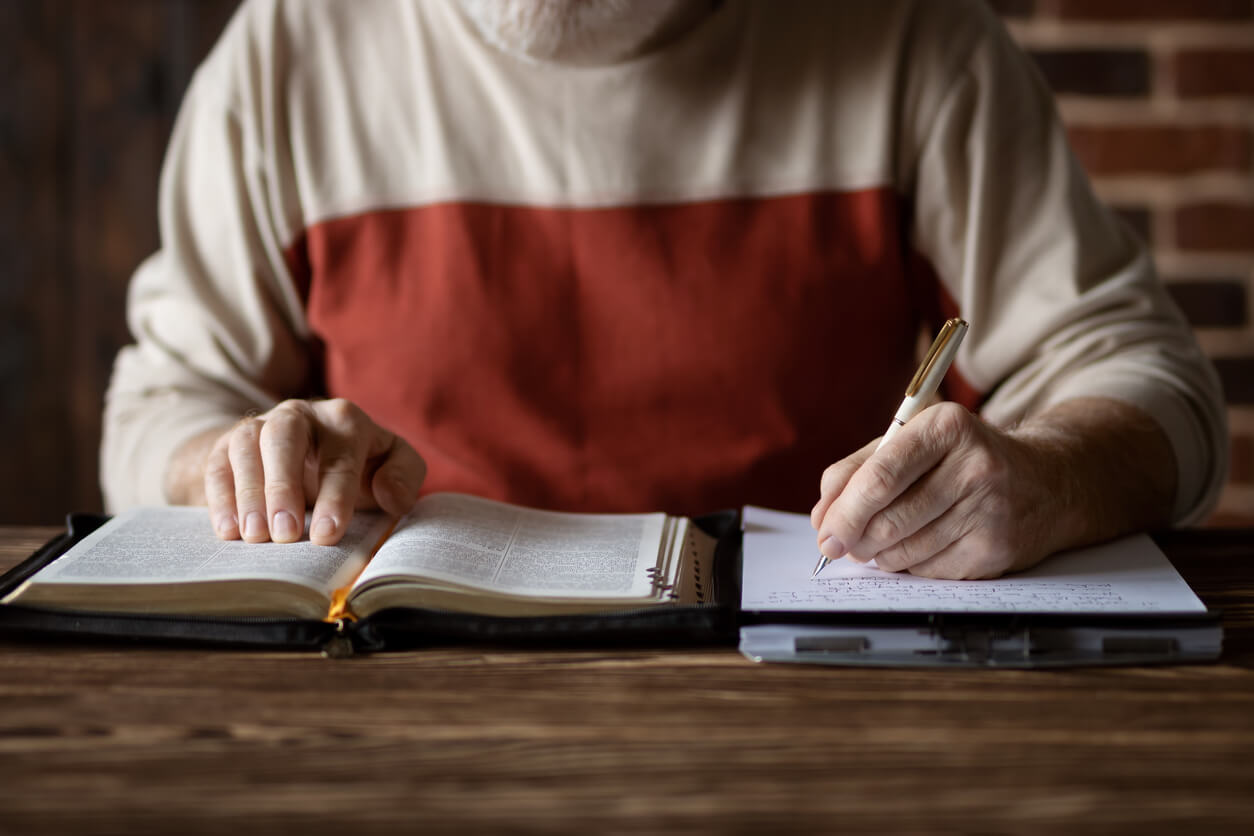 ---
Why Choose Online Learning Through the Franciscan School of Theology?
In addition to working alongside world-class faculty, the Franciscan School of Theology's partnership with the University of San Diego enables FST to provide competitive flexibility. Designed for busy working professionals who want to earn their master's degree while balancing the demands of work and family life, FST's convenient yet rigorous online program helps students achieve their educational goals on their own schedule.
As an online graduate student, you will have access to your classroom at any time and can view your assignments, syllabus, and course resources from any computer with internet capability. The online courses embody the same learning outcomes, educational rigor, and high level of academic excellence as our on-campus programs.
Utilize multiple university resources
Access numerous USD services
Immersive and unique career and personal-building education
Accomplished professional faculty with extensive education/teaching experience
Small class sizes with a small instructor-to-student ratio
Strong networking opportunities with faculty/peers through online collaboration
100% online = flexibility for working professionals
Complete your degree in 24 months
---
Frequently Asked Questions
Seven Applications of Faith in the Workplace
Read how you can put your faith to work in any profession in this eBook
Start your master of theological studies-franciscan theology journey today