Master of Science in Cyber Security Operations and Leadership
Careers
Interested in the Program?
Request More Information
"*" indicates required fields
---
Your Career in Cybersecurity Operations & Leadership
The demand for highly-qualified cybersecurity professionals is at an all-time high, as businesses in the private sector, as well as government organizations and the military work to keep up with growing cyber threats. There is expected to be a 32% increase in cybersecurity jobs by 2028, making now an excellent time to improve your skills and leadership abilities.
Furthermore, the average compensation for those working in cybersecurity leadership roles is consistently above average — Chief Information Security Officers on average earn a salary of $223,000.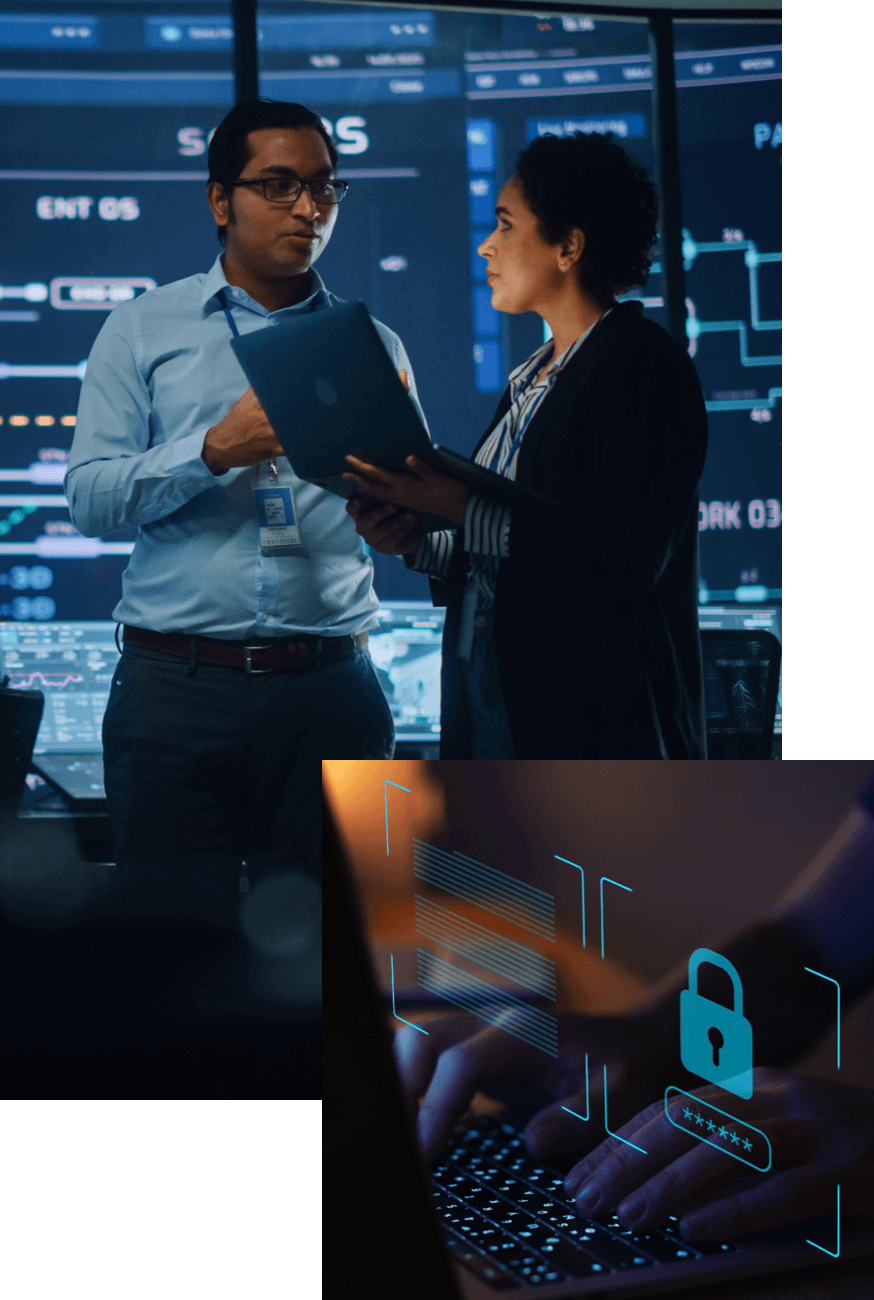 Industry insights
$6 billion
Annual cost of cyber crime
3.5 million
Anticipated new cybersecurity job openings
---
Careers in Cybersecurity Operations and Leadership
A career in cybersecurity leadership will put you on the front lines, battling cyber threats and leading your organization in the fight against hackers and online crime.
Information Security Analyst
Work on security measures for the protection of computer networks and information assets. Assess system vulnerabilities for security risks and implement risk mitigation strategies.
Projected Salary:

$103,590
Penetration Tester
Often called "ethical hackers," penetration testers seek to infiltrate their employers' computer systems to detect and address vulnerabilities that could be exploited by cyber criminals.
Projected Salary:

$102,000+
Chief Information Security Officer
This is the executive chiefly responsible for the policies, personnel, planning and budgeting of an organization's information and data security; salaries vary based on size of the organization.
Projected Salary:

$170,000+
References:
*Salary estimates from employment sites such as U.S. Bureau of Labor Statistics, LinkedIn, Springboard, Glassdoor, ZipRecruiter, Indeed, etc. Estimates often update in real time based on changing data.
Take the Next Step in Your Cybersecurity Leadership Career
---
Our graduates have gone on to work for:
---
Our Alumni Network
Many of our alumni are excelling in their cybersecurity roles in organizations all over the country and around the globe. At USD, we are committed to connecting our students with a broad range of cybersecurity stakeholders to enhance their educational and professional development as well as help them take the next step in their careers.
---
Related Articles & Resources
Explore our latest articles and blog posts about cybersecurity topics, emerging trends and career advancement, as well as additional educational resources.
Position Yourself For The Future and Contribute To The Mitigation Of Modern Threats.
Download eBook: Why Cyber Security Engineers Are in Such High Demand
---
Frequently Asked Questions
Are classes scheduled to accommodate working professionals?
The fully online M.S. in Cyber Security Operations and Leadership degree program was designed specifically with the working professional in mind. Online courses can be completed on your own schedule (as long as deadlines are met). It is important to note that all of our professors are industry practitioners, meaning that they have a significant amount of experience and are often well respected leaders within the cybersecurity industry.
Does the degree have to be completed within 20 months?
The fully online M.S. in Cyber Security Operations and Leadership degree program is designed to be completed in 20 months. The curriculum schedule functions on a rotational system, meaning that if a student skips a course they will have to wait for the rotation to complete before jumping back in. We encourage individuals that are interested in the program to speak with an enrollment advisor, or to work with their program coordinator, who is available to help every step of the way.
Is the cybersecurity master's degree offered fully online or are there some on-campus requirements?
The M.S. in Cyber Security Operations and Leadership degree program is fully online. University of San Diego offers two master's degree programs in cybersecurity. The Master of Science in Cyber Security Operations and Leadership is 100% online and the Master of Science in Cyber Security Engineering is offered both online and on campus.
How long does each course last?
Students take two courses each semester, with students focusing intensively on one course at a time. Each course lasts a total of seven weeks with the only exception being introductory courses, which last a total of 14 weeks.
Will my degree be conferred differently from an on-campus program?
The degree conferred is the same as that earned by campus-based students. The online courses embody the same learning outcomes and high level of academic excellence, educational rigor, and content delivery.
Who will benefit the most from this program? Will I be a good fit for the program?
The program was designed specifically to help foster the next generation of cybersecurity leaders, regardless of where they may fall within the cybersecurity spectrum. This cybersecurity master's degree program was designed specifically to serve the needs of a diverse set of individuals who are currently in cybersecurity roles as well as those interested in pursuing a career in cybersecurity.
Many of our students are existing cybersecurity professionals who are hoping to take the next step within their career. For those students, our degree program offers the security concepts, topics, theories and leadership skills necessary to be considered for C-level positions. For students with less experience, who may be at an earlier juncture in their cybersecurity professional career, or for those switching careers from more traditional IT roles, our degree program offers the education required to quickly advance into your desired career.
---
What is the Next Step?
If you would like to learn more or take the next step towards enrollment, speak with a USD enrollment adviser who can answer all of your questions and offer more insight into this cutting-edge program.